High Precision Load Cells
Minebea Intec Contego-Hygienic Weigh Module Kits – Lateral Cable Outlet
$616.40 – $18,749.62
Compact and absolute hygienic weighing solution for a load range up to 2 t
Quick and seamless installation
Easy cleaning without residue
High chemical resistance
Protective cover made of FDA-compliant silicone
Integrated S-like lift-off protector and jack-up function with constrainer for horizontal forces
Proven rocker pin principle for accurate repeatability
10,000 divisions
Load cell, 2 mV/V
15-year load cell warranty
30 kN destructive lateral force and 8 kN permissible lift-off protection
Minebea Intec Contego-Hygienic Weigh Module Kits – Lateral Cable Outlet
The protective cover made of FDA-compliant silicone ensures a reliable encapsulation of the module and prevents the intrusion of dirt and microorganisms. The connecting geometry between protective cover and mounting plates guarantees a safe fitting and, together with the already excellent resistance to aging of the silicone, ensures reliable protection over years.
The Contego® weighing module therefore represents an absolutely hygienic unity of load cell and installation kit. As a result, you can refrain from using other expensive and complicated constructions to protect the weighing technology against dirt.
Besides the hygienic aspect, the Contego weighing module provides all the other important mechatronic functions for a fast operational startup and reliable results. The integrated constraint holds the process vessel in the proper position and, at the same time, allows movement through thermal expansion of the vessel. The integrated lift-off protector is a reliable safety feature to protect the vessel from tilting. At the same time, this feature can be used as a lifting system as well. This way, the vessel leg can be raised a few millimeters
without using supplemental tools.
A PR6241 S-type load cell is used with this module. This series is distinguished by its unmatched reliability, robustness and stability, enabling years of undisturbed usage without any readjustment, in addition to the high measuring accuracy and reproducibility.
Minebea Intec Contego-Hygienic Weigh Module Kits – Lateral Cable Outlet Dimensions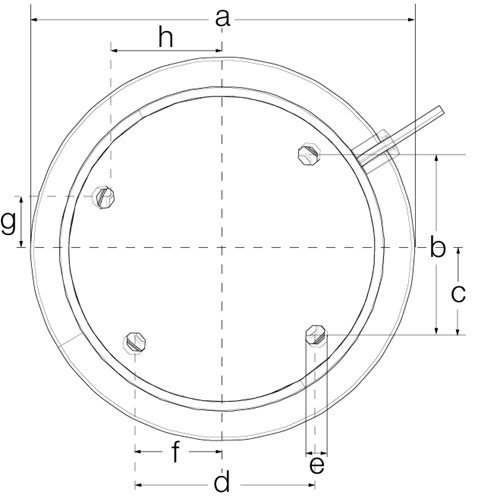 | | |
| --- | --- |
| Model | Mount Kit,CTG-332A-U Minebea Contego Hygienic, 3-Leg Kit, Total CAP 660 lb (300kg) Consists of: 3-Contego 100kgD1A 100 kg, 1 PR6130/64S, and 25ft PR6135 Cable, Mount Kit,CTG-632A-U Minebea Contego Hygienic, 3-Leg Kit, Total CAP 1300 lb (600kg) Consists of: 3-Contego 200kgD1A 200 kg, 1 PR6130/64S, and 25ft PR6135 Cable, Mount Kit,CTG-932A-U Contego Hygienic,3-Leg Kit, Total Capacity 1900 lb (900 kg) Consists of 3 Contego 300kgD1A 300kg Load cell, 1 PR6130/64S SS J-Box, and 25 ft PR6135 Cable, Mount Kit,CTG-1532A-U Minebea Contego Hygienic, 3-Leg Kit, Total CAP 3300 lb (1500kg) Consists of: 3-Contego 500kgD1A 500 kg, 1 PR6130/64S, and 25ft PR6135 Cable, Mount Kit,CTG-3032A-U Minebea Contego Hygienic, 3-Leg Kit, Total CAP 6600 lb (3000kg) Consists of: 3-Contego 1tD1A 1000 kg, 1 PR6130/64S, and 25ft PR6135 Cable, Mount Kit,CTG-6032A-U Minebea Contego Hygienic, 3-Leg Kit, Total CAP 13200 lb(6000kg) Consists of: 3-Contego 2tD1A 2000 kg, 1 PR6130/64S, and 25ft PR6135 Cable, Mount Kit,CTG-442A-U Minebea Contego Hygienic, 4-Leg Kit, Total CAP 880 lb (400kg) Consists of: 4-Contego 100kgD1A 100 kg, 1 PR6130/64S, and 25ft PR6135 Cable, Mount Kit,CTG-842A-U Minebea Contego Hygienic, 4-Leg Kit, Total CAP 1700 lb (800kg) Consists of: 4-Contego 200kgD1A 200 kg, 1 PR6130/64S, and 25ft PR6135 Cable, Mount Kit,CTG-1242A-U Minebea Contego Hygienic, 4-Leg Kit, Total CAP 2500 lb (1200kg) Consists of: 4-Contego 300kgD1A 300 kg, 1 PR6130/64S, and 25ft PR6135 Cable, Mount Kit,CTG-2042A-U Minebea Contego Hygienic, 4-Leg Kit, Total CAP 4400 lb (2000kg) Consists of: 4-Contego 500kgD1A 500 kg, 1 PR6130/64S, and 25ft PR6135 Cable, Mount Kit,CTG-4042A-U Minebea Contego Hygienic, 4-Leg Kit, Total CAP 8800 lb (4000kg) Consists of: 4-Contego 1tD1A 1000 kg, 1 PR6130/64S, and 25ft PR6135 Cable, Mount Kit,CTG-8042A-U Minebea Contego Hygienic, 4-Leg Kit, Total CAP 17600 lb(8000kg) Consists of: 4-Contego 2tD1A 2000 kg, 1 PR6130/64S, and 25ft PR6135 Cable, Plate,Top Contego Minebea 9405 360 41802, PR6041/80S Tank leg connection |